Exciting News for Property Purchase
Property Purchase within reach!
This months 0.25% rate cut by the RBA means interest rates are set for record lows and some borrowers will now enjoy historically low rates approaching 4.50% p.a.
These low rates are changing the way two groups are considering property purchases
Property Purchase: Investors – It's possible to purchase an investment property which has a rental income greater than the loan repayment
Property Purchase: Tenants – It's possible to purchase a home where the loan repayments are lower than the cost of renting. *
See the table below. The median annual rental yield for capital city units is now sitting at levels near or above most variable home loan interest rates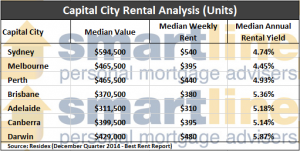 Here another Property Purchase Table. As you can see below, interest rates are at a historically low point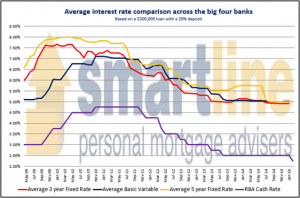 Regardless of your perspective, the conclusion is the same. Finance for residential property is at very affordable levels and opportunities abound. Please give me a call if you would like to discuss your options
* Note that in both scenarios buyers also have to consider other costs such as body corporate, rates and insurance
Article supplied by:
Brad Gooda, Commissioner for Declarations
Principal, Smartline Personal Mortgage Advisers
You can contact Brad:
Level 3, North Tower, 527 Gregory Terrace, Bowen Hills Qld 4006
PO Box 2068, Windsor Qld 4030
phone 07 3252 4799 | mobile 0417 062 643

© Smartline Home Loans P/L 1999 – 2015 | ABN 38 085 370 270 | Australian Credit Licence Number 385325
Disclaimer
In making this referral, we do not advise on the products and services Smartline Personal Mortgage Advisers may provide to you, nor do we represent that Smartline Personal Mortgage Advisers products and services are right for you. You need to make your own decision based on the information Smartline Personal Mortgage Advisers provides
HOME & LANDLORDS INSURANCE
Lewis Insurance Services can assist you with insurance for Home and Landlords properties.  Please contact one of our Advisers to discuss on (07) 3217 9015.
LIFE RISK INSURANCE
Paul Lewis from Insurance Advisernet Financial Services can assist with Life Risk insurance where required by your financier.  Please refer to our page https://www.lewisinsurance.com.au/life-income-insurance/ for  more details.