Summer Protection – Personal Protection
Your Summer Protection Newsletter
Aussie summers and the great outdoors go together like shrimps and barbies! 
Before long, we'll be packing up the kids and heading to the surf for some fun in the sun. Teaching junior to boogie board, playing beach cricket till dusk and lazing in the sun are just some of the ways we Aussies enjoy our welldeserved R 'n' R at year's end.
But before you take off to the beach there are a couple of things you should know in order to keep your family safe and sound. Getting to your destination safely and looking after yourself and the kids while you're there is paramount so naturally you will make preparations to avoid problems. After all, for many of us we'll be hitting the roads at the same time as thousands of other families, so it's important to plan
No doubt you'll put the car in for a service, pump your tyres and check they have plenty of tread. You'll ensure that your luggage is securely stowed and all your passengers are buckledup. You'll take a break at Reviver Stops if your journey is long and you know to never drive tired.
These messages will be reinforced over and over in the lead up to December and for good reason. Last year, 107 people lost their lives on the roads1 and countless others were changed forever.
Whilst lazy days under the sun sound idyllic, it doesn't hurt to think about that a little more closely too. Again, little preparations can make a big difference. A hat and a bit of 'slip, slop, slap' will help you or the kids to avoid a painful case of sunburn, and being sun smart now can avoid an increasingly common problem later. Did you know "two in three Australians will be diagnosed with skin cancer by the time they are 702"?
Yes, statistics can be sobering but they don't need to be alarming – planning is the key to avoiding or containing the impacts if anything were to go wrong
This year when you're compiling your Summer holiday planning checklist consider adding 'review your insurances'. This way you will know that when something unplanned happens, you and your family will have the financial support you need.
1 www.bitre.gov.au/publications/ongoing/rda/files/RDA_Dec13.pdf
2 www.cancer.org.au/about-cancer/typesof-cancer/skin-cancer.html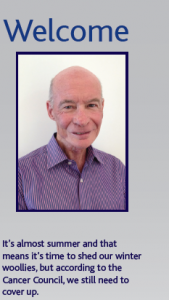 While summer is the ideal time to promote sun safety, it's an issue that needs to be considered all
year round, especially if you work outdoors. Further, as we head into Christmas, it's fitting that we celebrate family and what it means to be in a family in
the 21st Century, please see our article on the Sandwich Generation.
If I can assist you with a tailored personal protection program, I invite you to give me a call.
Kind regards
Paul Lewis
IA Financial Services
Authorised Representative No.262 180
p. 07 3217 9015
e. plewis@lewisinsurance.com.au
More Articles in this Newsletter: Are You Sandwiched? Australia's Baby Boomers have become our Nations Carers